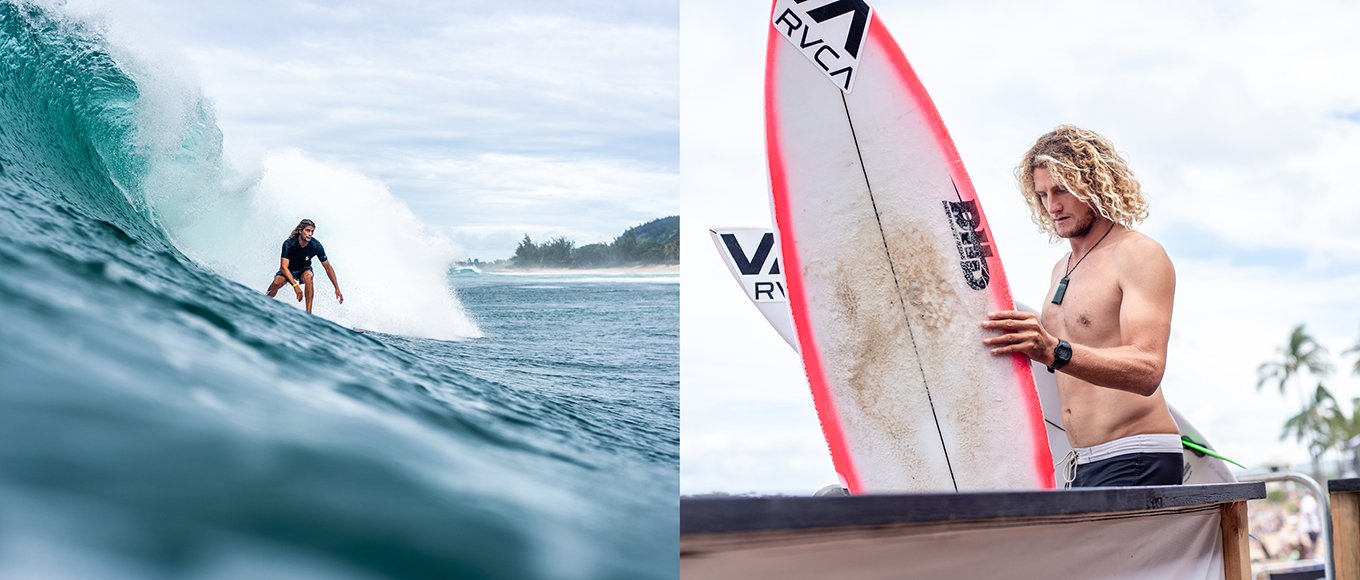 RICARDO CHRISTIE HAILS FROM MAHIA, A SMALL COMMUNITY LOCATED ON NEW ZEALAND'S REMOTE EAST COAST, MOST FAMOUS IN THE SURFING WORLD AS THE HIDE OUT OF MIKI DORA IN THE 70'S. A WILD ISOLATED LAND OF UNTOUCHED BEAUTY RICH IN EMPTY REEF, POINT AND BEACH SETUPS. GROWING UP IN A CLOSE NIT AND SPIRITUAL COMMUNITY HAS RENDERED RIC AN EVER GLOWING APPRECIATION FOR PEOPLE AND HIS SURROUNDING ENVIRONMENT WHERE EVER HIS JOURNEY TAKES HIM. ALWAYS IN TUNE, HAPPY, HUMBLE AND QUICK TO SHARE A LAUGH RIC IS THE TRUE PORTRAIT OF SUCCESS. HIS ABILITY TO BALANCE FAMILY AND FRIENDS, HEALTH AND WELL BEING NEVER COMPROMISING A GOOD TIME WHILE TRAVELING THE GLOBE AS ONE OF THE MOST WELL ROUNDED EXCITING SURFERS IS TESTAMENT TO THIS.

IN THE WATER, RICS SURFING IS DRENCHED IN STYLE AND A BALANCE OF POWERFUL RAIL GAME AND ABOVE THE LIP FLAIR. HIS ALL AROUND APPROACH REALLY SHINES IN GOOD WAVES AND RICS SURFING LIGHTS UP THE JUICE. AFTER GRINDING FOR THE PAST FEW YEARS ON THE WORLD QUALIFYING SERIES, 2015 SEES RIC JOIN THE DREAM TOUR. HIS ADDITION TO THE WORLD SURFING LEAGUE NOT ONLY REPRESENTS YEARS OF DEDICATION AND PERSEVERANCE CHASING A CHILDHOOD DREAM BUT ALSO SOLIDIFIES HIM AS ONE OF THE SURFING WORLDS ELITE.
RICARDO CHRISTIE | CALI HAZE
IN THE HAZE OF RICARDO'S EXIT FROM THE LOWERS CONTEST WE SPENT A FEW DAYS HANGING WITH HIM WHILE HE ENJOYED THE DOWNTIME AND A CHANCE TO CRUISE WITH HIS FAMILY IN SAN CLEMENTE AFTER SOME LENGTHY TIME APART. FLICK THE PAGES FOR A VISUAL DIARY AND A FEW LITTLE INSIGHTS FROM RIC DOCUMENTING A FUN WEEK IN SOUTHERN CALIFORNIA. FILM/EDIT BY CAM NEATE.
RICARDO CHRISTIE | PRE-SEASON
PRE-SEASON IN INDONESIA WITH RVCA ADVOCATE RICARDO CHRISTIE. VIDEO BY OWEN MILNE, SONG: BOSS LEVEL BY FRECKLES.
RICARDO CHRISTIE | INDONESIA
RVCA NEW ZEALAND ADVOCATE RICARDO CHRISTIE IN INDONESIA. VIDEO BY JIMMY JAZZ JAMES. SONG "EN ESPANOL" BY THE MEMORIES, COURTESY OF BURGER RECORDS.