** Exclusive online offer valid until midnight on 05/04/2020 across all sale products marked with "Sale on Sale". Discount already applied on displayed prices. Offer cannot be combined with any other offer currently in progress.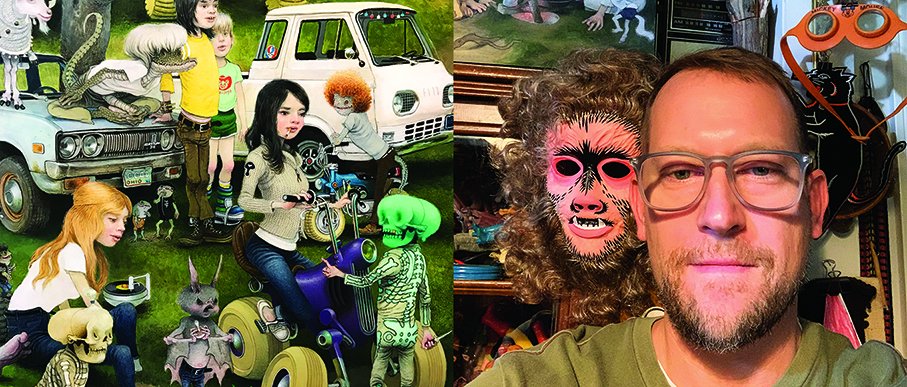 MATT GORDON WHO IS CURRENTLY LIVING IN NORTHVILLE, MICHIGAN WAS NAMED ONE OF THE SIX "NEW GENERATION" DETROIT ARTISTS BY OAKLAND UNIVERSITY. GORDON ATTENDED ART SCHOOL AT THE COLUMBUS COLLEGE OF ART AND DESIGN FROM 1992—1994 ON A SCHOLARSHIP. HE THEN GOT A SCHOLARSHIP TO THE CENTER FOR CREATIVE STUDIES IN DETROIT. GORDON WAS FEATURED IN JUXTAPOZ MAGAZINE IN 2000 (AND AGAIN IN 2008), AND SINCE THEN HAS JOINED THE RVCA ARTIST NETWORK PROGRAM. "EVERYTHING I DO CONCERNS RVCA. EVEN MY PERSONAL WORK...I AM THE RVCA LIFESTYLE."

HIS ARTWORK IS DETAILED AND ABSORBING, HE CREATES A LABYRINTH OF CREATURES, PEOPLE AND OBJECTS THAT MAY BE REALITY IN A PARALLEL UNIVERSE, OR MAY BE FACETS OF HIS PERSONALITY. HE HAS TRAVELED WITH RVCA ON ARTISTS' TOURS OF SPAIN AND HAWAII AND HAS CONTRIBUTED TO RVCA'S ARTIST NETWORK PROGRAM IN MANY WAYS FROM ARTIST TEES TO INSTALLATIONS, AND WORK THAT HANGS THROUGHOUT THE RVCA HALLWAYS.